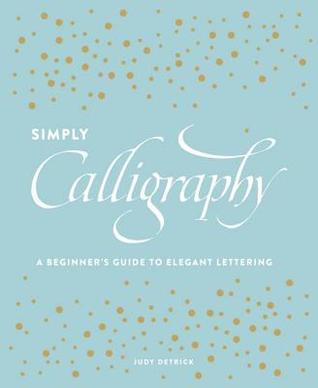 For a long time, I've always wanted to learn the art of calligraphy but I just never took the time to sit down and do it. Getting an ARC of Simply Calligraphy helped solve that problem. With book and new broad-edge pen in hand, I sat down to read and practice.
Judy Detrick's calligraphy guide is a well-informed how-to handbook to introduce the beginnings of artful writing. It's not simply a how-to though, Simply Calligraphy provides the history of calligraphy and breaks down the science of pen strokes and letter forms.
Simply Calligraphy really works to help with comprehension of calligraphy, how different writing tools work and how the math of angles factor into letter positioning so that the final product looks elegant and finished.
The guide is educational and well put-together, simple and easy in explanation. Compared to other calligraphy handbooks that I have seen, it is a forerunner to be among the best. Everything you need to know to get started in word art is in Simply Calligraphy; the only thing you need to do to keep going is practice.
4/5 Stars.
I received a free copy of Simply Calligraphy from Blogging for Books in exchange for an honest review.