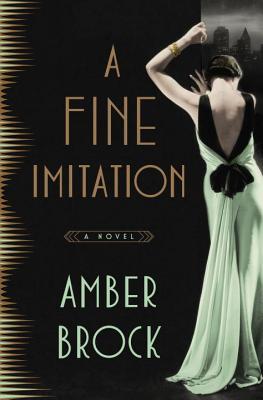 Amber Brock's A Fine Imitation is 1920s glamour mixed with high society issues and a commentary on restricting gender role expectations. Told with two alternating narratives a decade apart, A Fine Imitation tells the story of Vera Bellington, a woman born into privileged life in Manhattan. In 1913, Vera is an art student discovering a new friendship with Bea Stillman, a wild and energetic girl with a knack for catastrophe. Flash forward ten years to the Prohibition era and Vera is now un-happily married, living the life of a lonely, very wealthy socialite.
Then handsome artist Emil Hallan arrives at Vera's Park Avenue penthouse to work on a mural for the building. Despite his mysterious past, Vera finds herself drawn to him through their mutual connection to art. Emil stirs Vera's familiar world of elegance and expectations causing her to question herself and what she really wants from life– comfort or love?
I honestly didn't expect to like this book as much as I did, but once it picked up steam, I couldn't put it down. Not only was the world constructed in an elegant Gatsby-like way, the characters were meticulously developed. Vera's change throughout the story was seamless and entirely fitting to the plot. Brock's writing managed to transport me back to the early decades. She wrote smoothly, well educated in her subject matter. She not only brought her characters to life, but she brought the whole world to vibrant, glamorous life, too. I could really feel Vera and Emil's love for each other; I believed in their story and rooted for them until the satisfying end.
A Fine Imitation is also an excellent title– and I'm a sucker for a good, metaphorical title. The Imitation not only plays on the subject of art and forgery, but also within many of the characters, who are not face-value as the story line develops.
4/5 Stars.
I received a free copy of A Fine Imitation from Blogging for Books in exchange for an honest review.